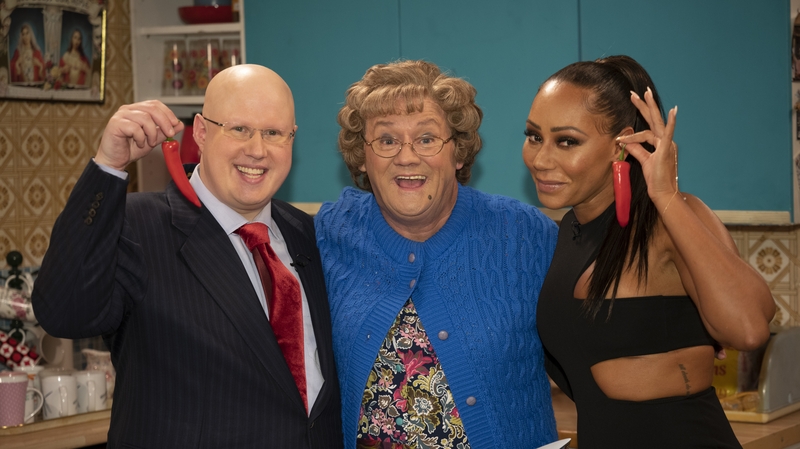 Mel B and Matt Lucas meet Mrs Brown, Ant and Dec are on the loose for the last time, while the Bee Gees and Abba should put a smile on your face this Saturday . . .
Pick of the Day
All Round to Mrs Brown's, 9.30pm, RTÉ One/9.15pm, BBC One
A fictional version of Finglas is the place to be as Brendan O'Carroll becomes Agnes Brown once more and he throws open the doors of the larger-than-life Irish matriarch's home to host the Saturday night chat show.
This week, Agnes and the family are joined by Spice Girl Mel B, comedy actor and Little Britain star Matt Lucas, along with his mother Diana Lobatto. Plus, there's a special musical performance from Jax Jones and Raye.
Don't Miss
Ant & Dec's Saturday Night Takeaway, 7.00pm, Virgin Media One
The popular duo's superb entertainment show finishes its current run in bizarre circumstances – and without a key ingredient, its studio audience.
Following the coronavirus outbreak, the planned season finale at Walt Disney World in Florida has been cancelled. But the genial Geordie pair will surely have something up their sleeves to put a smile on the faces of the viewing public.
New or Returning Shows
Twin, 9.00pm, BBC Four
Here's a new Norwegian crime drama for those who are susceptible to Saturday night subtitled thrills. Once more, it looks the business.
Erik lives alone in a run-down campervan on a desolate beach, while his twin Adam is the complete opposite – a successful man with money, a thriving family business, a loving wife and two children.
When Erik's irresponsible lifestyle finally catches up with him, he contacts his brother for help, but Adam brutally rejects him – with fatal consequences.
Great Asian Railway Journeys, 8.00pm, BBC Two
Michael Portillo sets off on the first leg of a new quest as he travels around South-east Asia, guided by his 1913 Bradshaw's Handbook on a 2,500-mile railway adventure across six countries.
Beginning in Hong Kong, he investigates how Britain won the island and Kowloon from China after two mid-19th century wars over the trade in opium.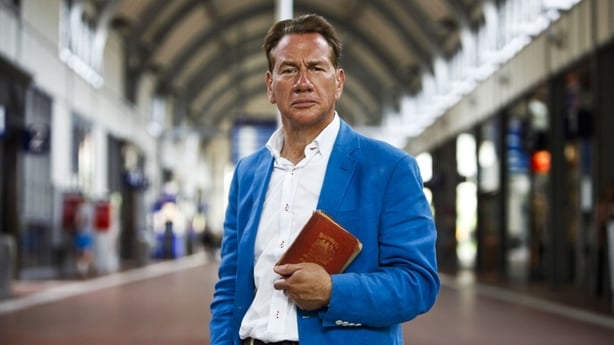 Ending Tonight
The Voice UK: Most Memorable Moments, 8.30pm, Virgin Media One
Will.i.am introduces the highlights of the past four seasons, recalling some of the performances in the Blind Auditions that got the coaches' chairs in a spin, as well as memorable moments from the Battle and Knockout rounds.
Repeats of the Day
Bee Gees: One Night Only, 9.00pm, Sky Arts
Barry, Robin and Maurice Gibb perform their greatest hits, such as Jive Talkin', How Deep Is Your Love and Stayin' Alive, in a concert filmed at the MGM Grand, Las Vegas, in 1997.
They are joined by Celine Dion on the track Immortality, and also sing some of the music they wrote but which was made popular by other artists, including Islands in the Stream, Guilty and Heartbreaker.
Outnumbered, 8.45pm, BBC One
Here's another chance to enjoy the first episode of season four of the Beeb's comedy about the Brockman family, starring Hugh Dennis and Claire Skinner.
The family has to make some tough decisions about work and video games, as well as who to take to a family funeral – an event that has the vicar wishing none of them had ever come.
I'd forgotten this scene. It's priceless!
Gavin & Stacey, 8.15pm, BBC One
Here's the first episode of the comedy about the romance between a couple with differing cultures and backgrounds, starring Mathew Horne, Joanna Page, Rob Brydon, Alison Steadman, Ruth Jones and James Corden.
Daytime Film Choice
Groundhog Day, 2.25pm, Sony Movies
One of Hollywood's greatest comedies, Bill Murray stars as an obnoxious TV weatherman reporting on a small town's annual festival who finds himself caught in a bizarre time loop, and is forced to relive the same day over and over again.
Prime Time Movie Pick
Mamma Mia! Here We Go Again, 8.00pm, Sky Cinema Comedy
Amanda Seyfried, Lily James, Pierce Brosnan, Cher and Andy Garcia star in the feel-good sequel based on the songs of ABBA.
It's five years since Sophie invited her three possible dads to her wedding, and now most of her family are reunited as she prepares for the grand reopening of the Hotel Bella Donna.
Late Late Flick Pick
Source Code, 11.45pm, BBC One
Duncan Jones directs and Jake Gyllenhaal stars should be enough to get you interested in this enjoyable sci-fi thriller about a military pilot who is the subject of a top-secret experiment.
His mind is transferred into the body of a man killed in a terrorist bombing on a train, but only for the last eight minutes of the dead man's life.
His mission is to use that time to find out who is responsible and if they intend to strike again.
Click here for full TV listings