In the century since March began, one series has emerged as the go-to distraction for the millions now sequestered in their living rooms: Tiger King: Murder, Mayhem and Madness. The bizarre documentary series on a feud between big cat owners, as well as about 95 other things, has been the No 1 program on Netflix's US platform since it premiered less than two weeks ago. And though the news and social media remain dominated by coronavirus coverage, the five hours of drama between outlandish characters in the disturbing American trade of private zoos has proved to be strange and fittingly unhinged counter-programming. Everywhere (online) you look: if it's not about the pandemic, it's probably Tiger King.
It was perhaps inevitable that Tiger King would blow up: it's the tried-and-true Netflix genre of shock documentary and follows in the footsteps of such buzzy hits on strange or fascinating corners of America as Wild, Wild Country; Cheer; and Fyre: The Greatest Party That Never Happened (whose director, Chris Smith, served as an executive producer on Tiger King). But Tiger King, a five-year odyssey into what is largely public information, is not only a hit but a quarantine smash – the cultural text most synonymous, timing- and crazy-level-wise, with the looking glass of America in lockdown; a ridiculous, darkly alluring universe that, from the characters to celebrity fans to Americans desperate to talk about anything else, keeps on going.
Memes from the show have exploded on all platforms, repurposing the stars' flamboyant styles, ironically adoring its layers upon layers of absurd taste, and sharing the stupefaction of falling into a seven-episode wormhole. The show's buzz is now ubiquitous enough to inspire a Daily Show segment comparing the so-called Tiger King, Joe Maldonado-Passage, AKA Joe Exotic – a peroxide-mulleted private zoo owner from Oklahoma who looks like Joe Dirt crossed with Lisa Frank – to Trump. Celebrities such as Cardi B, Chrissy Teigen and Kim Kardashian West have raved about it (or, in the case of Cardi, tried to start a GoFundMe for Joe, who's serving 22 years in prison for a plot to kill his nemesis, Carole Baskin). Fantasy casting (Lisa Kudrow as Baskin!) for a scripted miniseries already in progress has run rampant. (Saturday Night Live's Kate McKinnon is slated to play Baskin).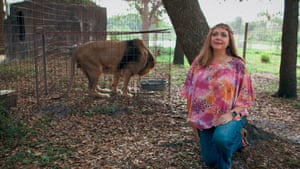 It helped Tiger King's reach, of course, that the show dropped right as many American states mandated social distancing measures, isolating millions at home in dire need of distraction. And few shows can counterweight a once-in-a-generation public health crisis quite like Tiger King, which is, to be clear, truly bananas. Tiger King is the Long Island iced tea of shows, if it was stirred with Tide Pods and spiked with moonshine. It jams your processing functions by throwing a semi-truck's worth of base interests at the wall, such as: actual tigers, polygamy, guns, genital piercings, a murder-for-hire plot, bad country music videos, a shock presidential campaign with branded condoms and meth. It's so crazy that a convicted drug trafficker from Florida who is allegedly the inspiration for Al Pacino's Scarface is the least remarkable person on the show. Which boils down to one intoxicating fact: for many, the horror of coronavirus is temporarily drowned out by Tiger King's MadLibs of peak American things – Joe finds his presidential campaign manager in the ammo section of Walmart.