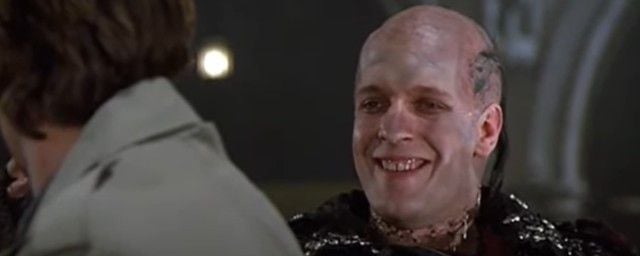 M6 diffuse ce soir à 21h05 "Les Évadés", avec Morgan Freeman et Tim Robbins. Retour sur le parcours de Clancy Brown, qui incarne le gardien de prison Hadley.
Avant The Mist et La Ligne verte, Frank Darabont adapte en 1995 pour la première fois Stephen King avec Les Évadés. Porté par Tim Robbins et Morgan Freeman, ce drame raconte l'amitié entre deux hommes, emprisonnés dans les années 1950 à Shawshank, le pénitencier le plus sévère de l'État du Maine.
Les spectateurs ne sont pas prêts d'oublier le capitaine Hadley, le gardien sans pitié prêt à recourir à la violence pour maintenir l'ordre. Il est interprété par Clancy Brown, acteur que l'on revoit dans l'univers carcéral avec La dernière marche et Hurricane Carter. Révélé par Highlander en 1986 où il est Kurgan, l'ennemi juré de Connor MacLeod, l'acteur est souvent abonné aux rôles de méchant grâce à son physique massif. On le croise ainsi en tant que dangereux psychopathe dans Randonnée pour un tueur, officier patriote dans Starship troopers ou encore en Surtur, le géant de feu de Thor : Ragnarok.
Très prolifique à la télévision, il apparaît dans des séries aux genres divers, de l'épouvante (Les Contes de la crypte) au fantastique (Sleepy Hollow, Flash), en passant par le drame (The Practice, Billions). Cet éclectisme se retrouve dans sa carrière de doubleur. Il a participé à plus de quatre-vingt séries animées, où il a prêté sa voix à Rayden dans Mortal Kombat : Les Gardiens du royaume, M. Freeze, Lex Luthor et Bane dans Batman et à plusieurs personnages d'American Dad !, Les Tortues Ninja et Star Wars : The Clone Wars.
L'un des personnages les plus connus de son répertoire de doubleur, bien loin de son rôle dans Les Évadés, est M. Krabs, le patron vénal de Bob l'éponge. Un rôle qu'il reprendra dans le long-métrage Éponge en eaux troubles, attendu le 29 juillet prochain dans les salles françaises.