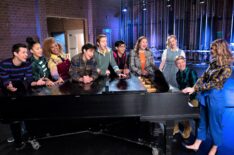 In the first season, Bassett brought his acting and singing chops to the role of Ricky, an aloof skater boy who auditions for his high school's production of High School Musical in a quest to win back his ex, Nini (Olivia Rodrigo). In a shock to the school's ensemble of thespian types and their HSM-obsessed drama teacher, Miss Jenn (Kate Reinders), Ricky lands the role, gets the girl and finds a community along the way.
See Also
Plus, see Derek Hough step into his role as a North High rival.
We watched him become a bona fide musical theater kid, deal with family issues and finally break down the emotional distance he put between himself and those he loves. But Season 2, premiering May 14, brings another type of distance.
"Ricky's biggest fear is change," Bassett says. "And Season 2 starts with a lot of change. He finds out his mom is moving. He has to also move out of his house into an apartment. And then, of course, Nini is moving away." With his girlfriend off at a faraway theater boarding school, Ricky must pull together his fledgling emotional intelligence to make the relationship work.
"I think in Season 1, when he got scared or when he wasn't sure what to do, he sort of ran away," Bassett explains. "Now in Season 2, he's doing the opposite of that — maybe even to a fault." Whereas Ricky once struggled to articulate his feelings, now he's woefully romantic.
"If there's one thing Ricky does," Bassett laments, "it's an overcorrection. And sometimes when you're so afraid of screwing things up, you end up actually making them worse."